A few weeks ago my husband and I were lying in the same lounge chair on the roof of the house where I'm currently staying in Mexico. I'm here for the month as an Artist in Residence, and we were lying in the same chair because he was only able to visit me for three days, and we had been missing each other a lot.
"What are you reading?" he asked, looking over my shoulder.
"Nothing." I snapped my Kindle shut. This was the disadvantaged of sitting in the same chair.
"Are you reading about gay vampires?" he asked.
"No."
"Let me see."
"No. I'm embarrassed!"
The truth was, I was reading Dead Until Dark by Charlaine Harris — the first book in the series upon which the TV show True Blood is based. And yes, I happened to be reading a scene about some bisexual vampires.
"Don't tell my housemates," I said. At the time I didn't know them very well, and besides, it seemed inappropriate that I was getting paid to teach a class in fiction writing, and here I was reading a trashy vampire-romance novel. (Actually, I thought the novel was pretty decent — fast-paced plot, clever characters — but I know that a lot of people would turn up their noses.)
"Why are you embarrassed?" Paul asked. He's a scientist. He doesn't understand the snobbish book shaming that goes on in literary circles.
The next thing I knew, my housemate came onto the roof.  "Hey Marico," Paul said.  "Guess what Eva's reading –a book about gay vampires!"
"I'm sitting in my own chair now," I told him.
Before leaving for Mexico, I downloaded a bunch of books onto my Kindle. But I was having trouble reading some of them — especially the ones that took more concentration.
I'm not alone in this by any means. There have been studies that show when people read on an e-reader it's harder to remember and harder to concentrate on what they read (see here and here). After a while I gave up on the more high-brow, literary fiction on my Kindle and downloaded some stuff that would be easier to read… like Dead Until Dark.
I was also able to read Dorothy Allison's Bastard Out of Carolina on my Kindle with no problems, as well as some middle-grade novels by Rebecca Stead. (The novel I'm hoping to publish soon is middle-grade, so I like to see what's going on in that market). But then I tried to read Kazuo Ishiguro's new literary fable, The Buried Giant on my Kindle. And even though I was enjoying the beautiful and melancholic poignancy of a mist that makes people lose their memory, I started having trouble following the meandering story, as if I, too, was being affecting by the mist.
So, on a whim, I downloaded The Lying Game (Book 1) by Sara Shepard. Sara Shepard is the author of the Pretty Little Liars series, and (I didn't know this until I googled it just now) The Lying Game was turned into a TV show that used to air on ABC Family.
Anyway, I devoured the book in two days flat. It was like candy: delicious, addictive… And I felt slightly guilty when I got to the last page. Plus, I couldn't stop at just one. I requested the second Lying Game (Book 2: Never Have I Ever) from the library. (It wasn't available…which was maybe a good thing?)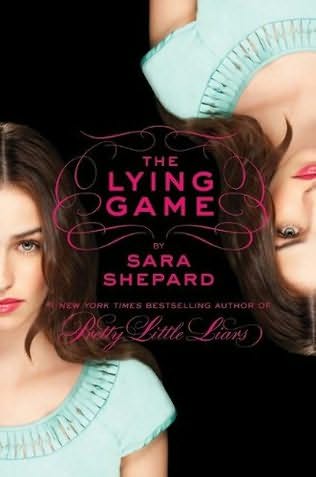 I wondered, was I going to read nothing but fluffy books for the rest of my time in Mexico?  And if so, are they really like candy:  OK as an every-now-and-then indulgence but harmful if I consume too many?
I mean, you are what you eat, right? Maybe the same is true with books. Do you write what you read? If I read a steady diet of sort-of-trashy books, will my writing become sort of trashy, too?
I've been thinking about this a lot lately because I'm getting into the business of manuscript consulting. As in, getting paid to read someone's unpublished novel and give him/her feedback and revision advice.
"Do you really want to do that?" a friend of mine asked. "What if you end up having to read a bunch of horrible manuscripts? It'll be painful."
True. And, I couldn't help thinking, what if reading a bunch of terrible novels makes me a terrible writer in the process?
I think it's true to a certain extent that you write what you read. But in part that's because people tend to read what they like, and hopefully you are writing books that you yourself would want to read. I mean, honestly, I enjoyed The Lying Game, and it wasn't god-awful writing like Fifty Shades of Gray. Sara Shepard knows how to plot a book.  She's creative and clever, and she knows what she's doing.  Besides, I think it would be fun to write a mysterious page-turner about bitchy girls and murdered ghosts. If I ever end up writing something like The Lying Game or Dead Until Dark, I won't be ashamed.
As for reading painfully bad manuscripts, it's probably helpful. I can see what isn't working and what makes them so bad then use that knowledge to recognize my own bad habits and learn what not to do.
On the other hand, I should also be reading high-quality, literary books. Books that make me think, books that turn a beautiful phrase. Books that are healthy for my mind.  Reading writers who are better than me will improve my writing as well.
I guess, like any diet, it's best to read a variety. And if I'm going to read a light-and-easy novel, some choices are better for me than others.  Choosing The Lying Game over Fifty Shades of Gray is like choosing a fruit popsicle over of a fried Twinkie.  There's a difference.
After I requested the second Lying Game and it wasn't available, I scoured the library e-books for something with substance that I would still be able to read on my Kindle.  Naturally, all the novels I could think of along that vein were unavailable.  So, I went against my Scrooge-like tendencies and bought the Kindle version of a book I'd heard lots of good things about:  Americanah by Chimamanda Ngozi Adichie.
I went up on the roof — alone this time — and started reading.  Americanah was no candy book.  It was the winner of the 2013 National Book Critics Circle Award for Fiction as well as one of The New York Times's Ten Best Books of the Year and an NPR "Great Reads" book.  Within the first few pages, Adichie wowed me over with her pitch-perfect descriptions, thought-provoking observations, and a particularly elegant simile about relationships.  And, what's more, I had no trouble concentrating on this story about race and class and love in Nigeria, despite the fact that I was reading on my Kindle.  I sat there for an hour, completely engaged.
Which leads me to think that there are certain books that seem like candy because they are delicious and un-put-downable (and hence Kindle-friendly), but they are also healthy for your mind.  These are the beautifully-written page-turners.  These are the books you don't have to try to concentrate on because they are so completely absorbing already. These are the kinds of books I most like to read, and these are the kinds of books I hope to one day write.